Sandra Bullock is 'highest paid actress' in Hollywood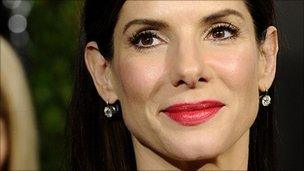 Oscar-winner Sandra Bullock was the best-paid actress over the past year, according to Forbes magazine.
The 46-year-old earned $56m (£35m) between June 2009 and June 2010, driven by income from her hit movies The Proposal and The Blind Side.
Reece Witherspoon and Cameron Diaz both ranked second on the list, each raking in $32 million (£20m).
The figures were calculated by adding pay on movies currently being filmed, as well as pay earned after release.
Forbes also looked at any earnings that actresses might have made from perfume and clothing lines and from ad campaigns.
Witherspoon hasn't been seen on screen since 2008's Four Christmases, although she lent her voice to the animated film Monsters Vs. Aliens last year.
But her second place on the list is down to advance pay for two upcoming films - romantic comedy How Do You Know starring opposite Jack Nicholson and Owen Wilson, and the film adaptation of Water for Elephants co-starring Robert Pattinson.
The actress also earns as an "ambassador" for Avon cosmetics.
Jennifer Aniston ranked fourth on the list with $27 milion (£17m) in earnings - the star still receives money from her role in the sitcom Friends and recently launched a perfume line.
While Sex and the City actress Sarah Jessica Parker was fifth with $25 million (£16m) thanks to a second big-screen version of the TV series and her own perfume range.
Related Internet Links
The BBC is not responsible for the content of external sites.