The many faces of Alfred Molina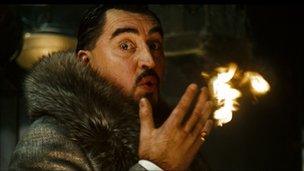 If there's one thing you can say about Alfred Molina, it's that you're never sure where he's going to turn up next.
His two latest roles couldn't be more different.
He stars alongside Dawn French in new BBC Two sitcom Roger and Val Have Just Got In, and this week sees him in cinemas as a suave villain in Disney's The Sorcerer's Apprentice.
"He's very dapper," says Molina, of his character Maxim Horvath. "It's the sort of part George Sanders would have done. I loved the idea of this Edwardian dandy with the wide lapels and the fur collars."
Molina is no stranger to big-screen bad guys, having played the tentacled Dr Otto Octavius in Spider-Man 2.
In Sorcerer's Apprentice he plays arch-nemesis to Nicolas Cage's Balthazar Blake in modern-day Manhattan.
As with so many Hollywood villains, Horvath has a cut-glass British accent.
"I'm proud to say I belong to a very long and honourable tradition which goes back to the silent era," laughs Molina.
"The British accent sounds foreign enough to be intriguing and in some way threatening. It's a very fast way of letting the audience know where this character is going to go."
He adds: "The nice thing is it's created a lot of work for British actors in Hollywood."
The first big action sequence in Sorcerer's Apprentice sees Molina slugging it out in a blizzard of special effects with Nicolas Cage.
"I've reached an age when I don't really hold with actors doing their own stunts," says 57-year-old Molina.
He did, however, have to set his hand on fire.
"When I read the script, Horvath does this gesture and his hand suddenly comes alight. I thought oh well that'll be computer-generated. No - it was much more basic.
"They taped up my fingers with this flesh-coloured flame retardant tape and covered it in paraffin gel and set it on fire.
"I was told that I had 15 seconds before the flame would start to warm up my hand!"
Born in London, Molina's big screen debut was in 1981's Raiders of the Lost Ark. His breakthrough roles came in 1985's Letter to Brezhnev and Stephen Frears' 1987 drama Prick Up Your Ears.
More recently he has been in British film hit An Education, and on stage as artist Mark Rothko in Red at London's Donmar Warehouse and on Broadway.
Molina appeared earlier this year in blockbuster Prince of Persia, and has finished filming on The Tempest (alongside Helen Mirren and Russell Brand). He's about to join the cast of NBC TV series Law and Order: Los Angeles.
Asked about his career, Molina talks about its "crazy quilt pattern".
"Career always suggests some kind of game plan - I've never had one. My only criteria has been to try and stay in work," he says.
But he admits that he's "quietly proud" of his CV's diversity.
"When the BBC sitcom Roger and Val came up, it couldn't have been more different from what I'd just done, which was Sorcerers Apprentice, and that couldn't have been more different from The Tempest."
So what made him want to do a sitcom?
"I didn't even read all the episodes. The fact that it was Dawn French was what made me say yes. I think she's fantastic.
"I thought that's going to look good on my CV. Alfred Molina and Dawn French - yes."
The Sorcerer's Apprentice opens in the UK on 11 August. Roger and Val Have Just Got In is on BBC Two on Fridays.
Related Internet Links
The BBC is not responsible for the content of external sites.