'Star' portraitist Thomas Lawrence gets London showcase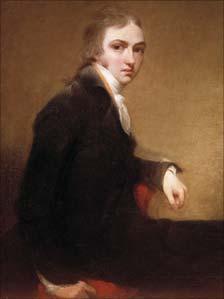 Thomas Lawrence will be celebrated this autumn at the National Portrait Gallery in the first UK exhibition devoted to the 19th Century painter since 1979.
Described as "the artistic star of the Regency period," Lawrence was a noted portraitist renowned for the power and originality of his work.
Running from 21 October to 23 January, Thomas Lawrence: Regency Power and Brilliance will feature 54 portraits.
Among the exhibits are three portraits normally displayed at Windsor Castle.
The works depict Pope Pius VII, Charles, Archduke of Austria and Gebhardt von Blücher, the Prussian Field Marshall who fought against Napoleon at the Battle of Waterloo.
Other paintings include a recently rediscovered self-portrait, a drawing of Countess Therese Czernin and a painting of Emily, Lady Cahir that have never been seen in public before.
The exhibition will feature loans from New York's Metropolitan Museum of Art, the Palace of Versailles in France and the Art Institute of Chicago.
It has been organised in conjunction with the Yale Center for British Art in New Haven, Connecticut and will travel to the US after its London run.
Last year, the National Portrait Gallery in London bought a Lawrence portrait of the actor John Philip Kemble for £178,500.
Director Sandy Nairne said this autumn's event would offer "the best chance to understand why his work is so important."