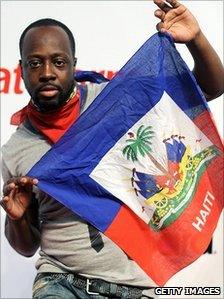 On his 2004 album Welcome to Haiti: Creole 101, Wyclef Jean recorded a song entitled If I Was President, in which he detailed what he would do if he was elected.
Over a lilting guitar line and sparse, sampled drum loop, he sang: "Instead of spending billions on the war, I can use that money to feed the poor".
His musical manifesto could now become a political reality - as the former Fugee is expected to announce he will run for Haiti's presidency on Larry King's CNN show this Thursday.
The 37-year-old is hugely popular in his home country - where half of the nine million-strong population is under 25 years of age.
Jean has played a hugely prominent role in securing aid since a devastating earthquake struck the country in January, killing more than 200,000 people and leaving thousands more homeless.
But some critics have questioned the hip-hop star's political credentials.
The son of a preacher, Jean moved with his family to Brooklyn, New York, at the age of nine.
He learned to play the guitar and studied jazz through his high school's music department.
In 1987, he joined rap group The Tranzlator Crew, which had been formed by his cousin Prakazrel "Pras" Michel and Michel's classmate, Lauryn Hill.
Renaming themselves The Fugees (slang for Haitian refugees), the band signed a record deal in the early 1990s and began crafting a rootsy, elemental hip-hop sound, that softened the genres' hard edges with a mix of reggae, soul and creole music.
Their first album - Blunted on Reality - was very much the sound of a band finding its feet, and only achieved modest success.
However, their 1996 follow-up, The Score, sold more than 18 million copies worldwide, and won a Grammy for best rap album thanks to their smash-hit cover of Roberta Flack's Killing Me Softly.
The track was such a success in the UK that it had to be deleted by their record company to focus attention on the band's next single, Ready or Not, leaving fans to buy the album if they wanted to hear the trio's version of the soul standard.
But the band split in 1996 - ostensibly to pursue solo careers, although there were never-confirmed rumours that Jean and Hill had fallen out after becoming romantically involved.
Jean's solo career launched with the album Carnival. which featured songs in Haitian Creole and the hit song Gone Till November - the video for which featured a cameo from Bob Dylan, a self-confessed fan.
The following years saw four more albums, of moderate success, featuring a wealth of collaborations with the likes of Missy Elliot, Mary J Blige and Bono.
Jean also wrote and produced hits for Destiny's Child, Whitney Houston and Shakira - including the UK number one Hips Don't Lie.
A short-lived Fugees reunion was sparked in 2004, when the trio performed together at a concert hosted by comedian Dave Chappelle in Brooklyn, which was filmed for a documentary.
Although the group embarked on a short European tour the next year and recorded a handful of new tracks, a mooted album never came to fruition amid rumours of infighting.
Pras ruled out a further reunion in 2007, telling AllHipHop.com: "Before I work with Lauryn Hill again, you will have a better chance of seeing Osama Bin Laden and [George W.] Bush in Starbucks having a latte, discussing foreign policies".
Meanwhile, in 2005 Jean set up his own humanitarian organisation, the Yele Haiti Foundation, which has been funding scholarships for children in the country and, since the earthquake, has raised more than $9 million (£5.7m) in aid.
In a further boost to his public image, the musician, who has kept his Haitian citizenship, was appointed ambassador-at-large of the country in 2006.
But the charity - and Jean himself - came under fire at the beginning of this year after he was accused of using money from the foundation for personal gain.
In a tearful press conference in January, Jean admitted the foundation had fallen behind with its taxes, but said: "I never, and would never, take money for my personal pocket when it comes to Yele.
"Have we made mistakes before? Yes. Did I ever use Yele money for personal benefit? Absolutely not."
On his presidential bid, Jean recently told Time magazine: "If not for the earthquake, I probably would have waited another 10 years before doing this.
"If I can't take five years out to serve my country as president, then everything I've been singing about, like equal rights, doesn't mean anything."
And, as his lyrics for his track show - "If I was president, all blacks would have repatriation, no segregation. Feed the nation til there is no famine" - he is a man of lofty ambitions.
Related Internet Links
The BBC is not responsible for the content of external sites.