Gaga producer signs deal with Universal records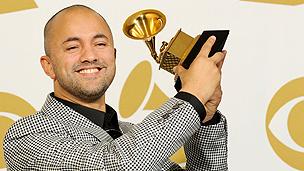 Lady Gaga's hitmaker RedOne is to launch his own record label as part of a deal with Universal Records.
The musician, whose real name is Nadir Khayat, will sign, write and produce for artists who join his 2101 label.
Unusually, individual labels within the Universal group - such as Island, Motown and Mercury - will then compete to release the completed albums.
The first signing is Swedish-Congolese singer Mohombi. "Everyone's going to go crazy about him," RedOne told the BBC.
"It's a rhythmic, global sound," the producer added. "Good melodies, good lyrics, good hooks."
After working at the Cheiron studios - which crafted hits for the Backstreet Boys and Britney Spears - he moved to America and began working with pop artists such as Mika, Little Boots, Akon and Enrique Iglesias.
His records can often be identified by the singer ad-libbing his name over the opening bars - as on Lady Gaga's debut hit, Just Dance.
The producer's deal with Universal was made in conjunction with the company's British-born chief executive, Lucian Grainge - dubbed the "most powerful executive in the music industry" by the Guardian newspaper.
"I told them, whatever artists I'm going to sign, they're going to have their own world," RedOne said.
"They're not going to be competing with anyone. I want to bring music back - Bruce Springsteen or The Rolling Stones or Bob Dylan, they're all different to each other.
"They have their own their world, their style, their brand. Everything."
Previous record label deals with top-name producers have not always borne fruit, however.
Hip-hop duo The Neptunes have only achieved limited success with their Star Trak imprint, which is home to acts like Clipse and Chester French.
And Prince's vanity label Paisley Park was wound down in the 1990s after a string of flops by soul pioneers such as Mavis Staples and George Clinton.
Related Internet Links
The BBC is not responsible for the content of external sites.