Eagles musician Don Henley settles copyright wrangle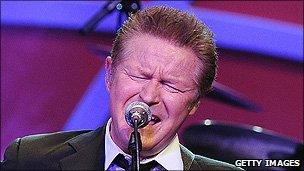 Eagles musician Don Henley has reached an out-of-court settlement with a US politician who used his songs for an election campaign without permission.
Republican Senatorial candidate Chuck DeVore paid an undisclosed sum of money and made an apology for creating parodies of two hits written by Henley.
The California politician also said sorry for rewriting the song lyrics.
Henley said he took action to protect "the rights of artists to control the use of the works they create".
"My colleagues and I brought this lawsuit to protect our music from being taken and used, without permission, to promote someone else's agenda. It was not a question of political ideology," he added.
Mr DeVore admitted that the song parodies, which were posted on YouTube, had infringed copyright.
"Political candidates, regardless of affiliation, should seek appropriate licence authority before they use copyrighted works.
"Further, we regret all inaccurate, derogatory or disparaging remarks made about Mr Henley during the course of this dispute," his statement added.
After Henley took legal action, Mr DeVore said "it's time to up the ante on Me Henley's liberal goon tactics", and claimed the material was used fairly.
Last year, Henley and two other musicians sued DeVore and a campaign worker for the misuse of their work.
All She Wants To Do Is Dance and The Boys of Summer were used in campaign videos called All She Wants To Do Is Tax and Hope Of November, which have since been removed.
Mr DeVore was unsuccessful in his bid to be California's Republican nominee for the Senate elections.
Among numerous copyright cases brought by US musicians against politicians, former Republican presidential hopeful John McCain issued an apology to Jackson Browne for using his song without permission.
Related Internet Links
The BBC is not responsible for the content of external sites.