Sylvester Stallone reunites stars for action fest
By Genevieve Hassan
BBC News entertainment reporter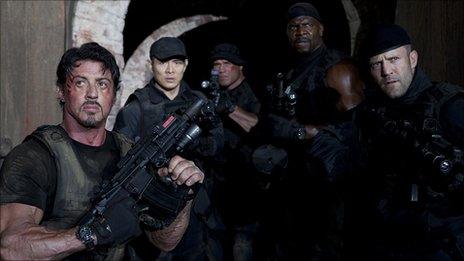 Getting together some of the biggest stars of the 1980s for an all-out action movie would be a hard task for anyone - except, perhaps, Sylvester Stallone.
The 64-year-old called in a career's-worth of favours to get the likes of Arnold Schwarzenegger, Bruce Willis, Mickey Rourke and Dolph Lundgren to share screen time with him for his latest movie, The Expendables.
Stallone not only stars in, but also wrote and directed the film - about a group of mercenaries hired to infiltrate a South American country and overthrow its dictator.
So, as the man responsible for making almost all the decisions on the film, he is all too aware of the high level of expectation on him to deliver.
"It's a lot of pressure," Stallone admits. "Sometimes you get a film that's a major turkey and it's not even Thanksgiving.
"But this time there's a great expectancy which I didn't expect when we started making it, so you wonder 'is it going to live up to ideas?'"
While writing the script, Stallone - who chooses to write long hand rather than using a computer - always had martial arts star Jet Li and British actor Jason Statham in mind.
Statham, best known for schlocky action fare like Crank and The Transporter, jumped at the chance to appear as a former SAS knife-wielding expert.
"He basically could have sold me anything he wanted to sell me," the actor admits. "I was so interested in working with Stallone because I've grown up on action movies that's he's been the star of."
Once Statham and Li were on board, the rest of the cast began to fall into place.
"I just tried to go really old school so I rang Dolph and he accepted immediately," Stallone says.
It is a timely reunion for the pair, who last went toe-to-toe 25 years ago in Rocky IV. Back then, Lundgren put Stallone in hospital by punching him in the chest during filming of a fight scene.
"Meeting this time is a pleasure because out of all the actors he's remained the most humble," Stallone says. "Plus I'm dying to kick his brains in because he really beat me up badly in that movie - you don't think I have a grudge?!"
The star then approached the worlds of mixed martial arts and wrestling to get world champion Randy Couture and Steve Austin as his muscle-bound "tough guys".
There are only two fully-fledged 80s action stars absent from the film, as Stallone explains: "I called Jean-Claude Van Damme and Steven Segal and they just had different ideas on their career, so I did the best I could."
Yet he managed to pull off getting the two biggest action stars of them all - his former box office rivals (and Planet Hollywood business partners) Arnold Schwarzenegger and Bruce Willis.
Their presence could never have been secured without Stallone's personal intervention - not least because he negotiated down their multi-million dollar price tags.
"I could never afford Bruce and Arnold now - that would be the whole budget of the movie," Stallone says.
"It would've been totally impossible [in the 1980s]. I certainly could never have got Bruce and Arnold back then, because they're too expensive and too busy - this was all favours."
Despite the all-star cast, Statham insists egos were kept in check: "Everyone has such a respect for Sly, so no-one's trying to be cool or flash. Everyone's just looking up to him as he's the man who's steering the ship."
Stallone is no stranger to juggling directing, writing and acting, having multi-tasked on 2008's Rambo and four Rocky films, but his multiple roles did pose challenges for the rest of the cast.
"It's complex because my method is to learn the entire script. Then when I'm in the scene I'll end up giving different lines on the spur of the moment," he says.
Lundgren explains further: "He may write something when it's your death scene and he says, 'Say this,' and you're like, 'What?' and he says, 'Just say it!' - it's different, but it works."
With an almost all-male cast, testosterone was brimming over on set, with the actors constantly trying to out-do one another while performing their own stunts ("Men are naturally competitive - they just want to keep upping the ante," Stallone says).
Indeed, there were a fair share of injuries as a result of this bravado - culminating in Stallone breaking his neck while shooting a "vicious" fight scene with Austin.
The star isn't apologetic for the violence in his films, however. "I believe that violence is very justifiable - in my films I only kill people that need to be killed," he says.
"The ones that deserve it get it, and they get it good - and the ones that go after women really get it.
"If I have a man tearing a woman apart and threatening her life and then I just shoot him with a bullet - that's too civilised.
"He's going to feel real pain. I don't feel guilty about it at all."
Although he's rapidly approaching his mid-60s, Stallone still loves the action genre and has no plans to retire from it - or make a belated foray into drama - any time soon.
"I don't think people are really that interested in seeing me do that - it would almost be a pathetic cry out to be recognised," he says.
"I'm very proud of the drama I did in Rocky Balboa. It's probably as deep as I can go. I'd rather just direct dramas.
"But The Expendables, I would like to go on."
The Expendables is on general release now.
Related Internet Links
The BBC is not responsible for the content of external sites.