Charlie Sheen's wife 'feared for her life'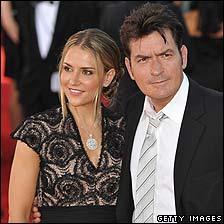 The wife of actor Charlie Sheen feared for her life during a Christmas Day argument that escalated into violence, a newly released police report states.
The report also contains details of an alleged assault that took place two months before the December attack.
During the unreported incident, Brooke Mueller claimed Sheen threw her to the ground "like a rag doll".
Last week Sheen, 44, was sentenced to 30 days at a rehabilitation centre after pleading guilty to assault.
The Wall Street star was put on probation for three months and told to undergo 36 hours of anger management.
In the report, Aspen police officer Rick Magnuson says Mueller told him "she was afraid she was going to die" when Sheen allegedly pinned her to a bed and put a knife to her throat.
Evidence given to the police recounts how an early morning argument about a song Sheen sang to his daughter was the catalyst for what followed.
The actor denied placing a knife near his wife's throat or attempting to strangle her, claiming their dispute had been "predominantly verbal".
According to the report, though, he did admit to a "huge fight" in California two months earlier, in which he had caused Mueller to fall and hit the back of her head on a piece of furniture.
Sheen married Mueller, his third wife, in 2008 following his acrimonious divorce from actress Denise Richards.
The actor - one of American TV's highest-paid stars - recently signed a deal to star in US sitcom Two and a Half Men for another two seasons.