Funk guitarist Phelps 'Catfish' Collins dies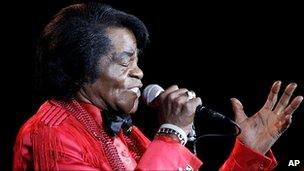 Funk guitarist Phelps "Catfish" Collins has died aged 66 after a battle with cancer.
The Cincinnati-based musician was part of the funk scene in the late 1960s and early 1970. He played with James Brown before joining Parliament and Funkadelic.
The older brother of Bootsy Collins, the guitarist's death on Friday was reported by the Cincinnati Enquirer.
The report described him as "a jovial guitar player with a huge smile".
Catfish played on James Brown's 1970 classic Get Up (I Feel Like Being A) Sex Machine.
"My world will never be the same without him," Bootsy Collins told Rolling Stone. "Be happy for him, he certainly is now and always has been the happiest young fellow I ever met on this planet."
Collins' death comes less than two months after that of Funkadelic guitarist Gary Shider, who died in June.
Related Internet Links
The BBC is not responsible for the content of external sites.