Leonardo DiCaprio 'attacker' pleads not guilty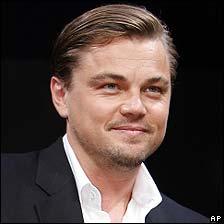 A woman accused of attacking Leonardo DiCaprio with a broken bottle at a Hollywood party in 2005 has pleaded not guilty to assault with a deadly weapon.
Aretha Wilson, 40, is expected to return to court on 23 August for a preliminary hearing and will remain in jail in California until then.
DiCaprio required a dozen stitches to his face and neck following the attack.
Last week Ms Wilson was ordered not to contact or come within 500 yds (457m) of the Inception and Titanic star.
Ms Wilson is accused of sneaking into a party hosted by Paris Hilton's former boyfriend, Rick Salomon.
According to police, she mistook DiCaprio for a former boyfriend and attacked him with a bottle.
DiCaprio later filed a formal criminal complaint and a warrant was issued for Ms Wilson's arrest.
The warrant said the actor, 35, had suffered "great bodily injury" in the incident.
Ms Wilson fled to Canada afterwards and had to be extradited to the US last month to face charges.
She faces up to four years in prison if convicted.