The Slap leads best-selling Booker longlist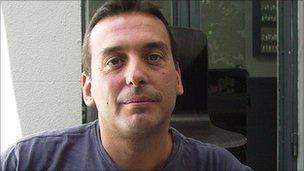 The 13 novels being considered for this year's Man Booker prize are selling better than any other longlist since 2001.
Christos Tsiolkas' The Slap is most popular longlisted book, selling more than 5,000 in the first week of August, according to Nielsen BookScan figures.
It sold more than three times as well as Emma Donoghue's Room (1,422 copies).
The Booker shortlist will be announced on 7 September, with the winner crowned on 12 October.
"The selection committee of the Booker Prize appear to have deliberately tried to select more commercially feasible titles in the list, and it's reflected in the sales," said Andre Breedt, research and development analyst at Nielsen BookScan.
In The Slap, the pivotal moment takes place at a Melbourne barbecue, where one of the guests hits a three-year-old child who is not his own.
The story is narrated by eight characters, all of whom were guests at the barbecue.
The book's recurring themes of sex, infidelity, racism, domestic violence and alcoholism have split critics.
Neill Denny, editor-in-chief of The Bookseller, told The Guardian that there "hasn't been a divisive book on taste grounds" in the Booker line-up for years.
The Slap won the Commonwealth Writers' Prize 2009 and was the fourth biggest-selling title by an Australian author that year.
Other books on the Booker longlist include David Mitchell's The Thousand Autumns of Jacob de Zoet, Paul Murray's Skippy Dies, Rose Tremain's Trespass, Peter Carey's Parrot and Olivier in America and Tom McCarthy's C.
The longlisted books sold 10,597 copies last week - up 47% on the same period in 2009 and an increase of 246% on the 2008 longlist.
The Bookseller points out that this year's sales are at their strongest point since 2001's 24-book longlist, which included Ian McEwan's Atonement and Philip Pullman's The Amber Spyglass.
The winner of the 2010 Booker Prize will receive £50,000, while the five runners-up will each receive £2,500 each.
Hilary Mantel won last year's Man Booker for her historical novel Wolf Hall.
Related Internet Links
The BBC is not responsible for the content of external sites.