Lady Antebellum bring country to the UK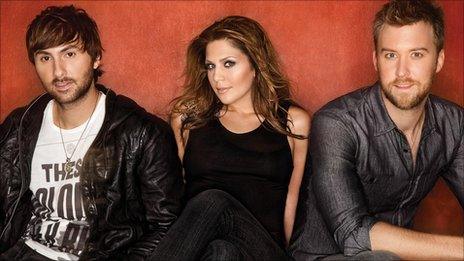 "There is a stigma attached to country music," says Lady Antebellum's Charles Kelley ahead of the group's first UK concert in London.
"People say they don't like it, but things have evolved a lot over the years. I think people would really dig it if they gave it a shot."
In the US, where country music has a much higher profile, the Nashville-based trio have taken the charts by storm.
They have picked up seven high-profile music awards, including a Grammy for their latest single, I Run to You, and were named vocal group of the year by the Academy of Country Music.
Their current album, Need You Now, is the best-selling album of 2010 so far, shifting 2.3 million copies - a million more than their nearest rival, tween star Justin Bieber.
And now they are trying to crack the UK - a market which has never really embraced the old Tennessee twang.
The group, who derived their named from the antebellum architecture style homes in the American South, met four years ago.
Kelley and school friend Dave Haywood began writing songs together in college before moving to Nashville.
Hillary Scott had stumbled across Kelley on MySpace and, after a chance meeting at a bar, the group was formed.
They quickly graduated from beer-soaked bars to the Grand Ole Opry, and were signed by Capitol Nashville in 2007.
A platinum debut album followed, and several of their singles have crossed over to the mainstream charts.
So the band's relative anonymity in London has allowed them a refreshing break from the spotlight.
"We got photographed one time coming out of a restaurant, but I don't think they knew who we were," says Scott, as Haywood jokes: "They probably thought we were Kings of Leon."
Speaking backstage at the Shepherd's Bush Empire, at the tail end of a three days promotional trip, the group are acutely aware the of challenge they face in the UK.
Yet the secret of Lady Antebellum's success seems to be that they don't sound traditionally country in the first place. On first listen, the title track from Need You Now could be mistaken for a soft rock power ballad.
"We didn't necessarily set out to do this sound - these are just the songs we wrote," says Scott.
Kelley adds: "Country music has changed a lot over the years and the lines have blurred - most of it on the radio now is a pop country sound, like Taylor Swift."
However Haywood admits they're not sure what to expect from their first UK concert - a one-off show which is partly intended to test the waters.
They are used to playing to tens of thousands of fans in US stadiums, so the Empire's 2,000 capacity means a more intimate affair.
"We're anxious to see how the crowd is tonight," he says. "Ever since we released the album over here we'd been looking for a way to come play.
"It's more of a thank you to the fans in the UK for buying the record, but we're so thrilled it's sold out.
"We'll see how it goes but hopefully this is the first of many."
And fan interaction is important to the group - they have a presence on Facebook, MySpace, Twitter and their own social network on their website.
For the last two years, they have also uploaded a weekly video "webisode" to their site to give fans an insight into their lives.
"There are so many fans that can't come to shows," says Haywood, "but you can put a video up on a Wednesday and somebody in Malaysia, Japan or the UK can see it - so it's a great way to stay connected with fans."
Scott adds: "We feel privileged that people want to go to our website and see a webisode. They're spending their hard-earned money and taking time out of their day and putting food on our table."
Just before the concert the trio carry out their usual vocal warm up and, according to Scott, "Dave checks his fly about 50 times".
The hour-long set is met with rapturous applause by the packed out venue which, it has to be said, is home to a slightly more mature audience than normal.
The group are clearly overwhelmed and frequently express surprise at the reception.
As well as Brits, fans from as far afield as Spain and the US have travelled to the gig. The home crowd even know the words to tracks from the band's debut album, which did not receive a UK release.
Covers of Radiohead's High and Dry and the Beatles' Hey Jude (for the benefit of a British audience) go down well, and after Kelley thanks fans for "indulging my London fantasy", the show culminates in a standing ovation.
Backstage, the group are buzzing with excitement.
"We heard a British audience might be a bit more subdued, but they were louder than some of our US concerts," claims Haywood.
"Hillary cried before we came back for the encore," Kelley adds. "You never dream about it happening on a global scale and it is for us - it was phenomenal."
So does this mean Lady Antebellum will be returning to this side of the pond?
"This has put away any doubts for us about whether it was worth coming over," he says, "It's not even a question.
And as the group fly back home to the news that their album has climbed 52 places up the chart to number 22 thanks to their three days of promotion, they could be back sooner than they think.
Lady Antebellum's latest single I Run To You and album Need You Now are out now.
Related Internet Links
The BBC is not responsible for the content of external sites.