Coronation Street condensed on stage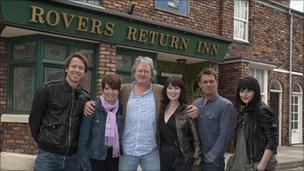 It would take roughly four months to watch all 7,400 episodes from Coronation Street's 50-year history back-to-back. So how can a new theatre show hope to squeeze the whole lot into two hours?
"With your tongue firmly in your cheek and a sense of the ridiculous," is the answer from writer Jonathan Harvey.
His show Corrie! opened on Thursday at The Lowry in Salford as part of the soap's 50th anniversary celebrations.
It sees five actors play 55 characters, giving fans a frenetic trip through the ups and downs - mostly downs - of the long-suffering Weatherfield residents.
Harvey is steeped in the soap. He has been part of its writing team since 2004 and is still there, working on the no-doubt dramatic anniversary storylines that will be played out later this year.
For the stage show, he has waded through reams of stories to piece together the most memorable moments, ending up with something akin to the Reduced Shakespeare Company tackling Hilda and Mavis instead of Hamlet and Macbeth.
The whistlestop story goes from Ena Sharples and Elsie Tanner fighting on the cobbles, through Gail's five weddings, Alan Bradley getting run over by a tram, Ken Barlow teaching French to Raquel and the saga of Tony Gordon illustrated through the medium of ballet.
Harvey first asked the soap's official archivist to pick out the top five storylines from every year, then chose the three characters who had been at the heart of the most action - Ken, Deirdre and Gail.
"They've had so much happen to them and it's really easy to tell their stories - so Gail with her five husbands and every one a nightmare," Harvey explains.
"Always thinking the next one's going to be OK and then he turns out to be a serial killer. It's just great material to play with."
He then read a summary of every episode that each of his three protagonists had ever been in before putting a tick next to those he wanted to use.
"So there was a lot of reading, and sleepless nights when I'd just be nodding off to sleep and then think 'Oh my God, Hilda Ogden!' And I'd remember characters.
"My poor researcher then had to go and watch the episodes with a laptop on her knee and write down the dialogue that I needed."
Actor Charles Lawson - better known to viewers as Jim McDonald - fills in the gaps as narrator.
The biggest revelation after watching 50 years of the show, Harvey says, was the fact that the writing has always been strong.
"Reading scenes where Deirdre was having her affair with Mike Baldwin, the writing just shone through," he says. "That was really encouraging.
"When people say why has the show lasted so long, I'm sure it's got something to do with that."
The rows, affairs and pithy one-liners have always been part of Coronation Street life - even if there are now more of them, with five episodes a week to fill compared with two in 1960.
What has changed, Harvey says, is the pace of the action and the style of modern TV.
"There were great scenes on the cobbles of Elsie and Ena having scraps but it was all quite static," he says. "The camera would always stay in two places.
"Whereas now, there'd be hair being dragged out, there'd be blood everywhere, the camera would be spinning round and it would be a much more televisually exciting."
Disasters, too, are nothing new. In 1967, a train crashed off the viaduct at the end of the street, burying Ena under the rubble.
In an echo of that storyline, a tram will career off the collapsed viaduct for the 50th anniversary in December, killing some well-known characters. The identities of the victims are being closely guarded.
But we do know Jack Duckworth, played by Bill Tarmey, and Janice Battersby, portrayed by Vicky Entwistle, will leave the show around that time.
Producers hope the blockbuster anniversary storylines will provide one of the year's biggest TV events, boosting ratings that currently hover around seven or eight million per episode on ITV1.
"It's going to be a really exciting time on screen," says Harvey, wary not to get into trouble by revealing juicy details.
"The big event is going to be that a tram is going to crash off the viaduct.
"You have to start using your imagination after that. But if a tram crashes off a viaduct into an ordinary northern street, it's not going to be a comedy story and life may never be the same again. You know what I mean?"
Corrie! is at The Lowry in Salford until 21 August.
Related Internet Links
The BBC is not responsible for the content of external sites.