Who on earth is Tyler Perry?
By Mark Savage
BBC News entertainment reporter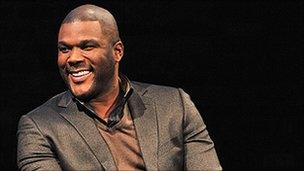 Meet Tyler Perry - a 6ft 5in actor, writer and film director with a soft Southern accent, a friendly face and his own 30 acre movie studio in Atlanta.
Over the past five years, he has released nine films, appeared in eight of them, and made half a billion dollars at the box office.
What's more, his first book debuted at number one on the New York Times best-seller list; he has created two hit sitcoms; staged sold-out plays across the US; and sold 25m DVDs.
So why haven't you heard of him?
Quite simply, he has never bothered to release one of his movies in the UK... Until now.
Why Did I Get Married Too? (it's a sequel) is an archetypal Perry film - a ragtag mix of broad comedy, soapy melodrama and a moral message inspired by his Christian principles.
Critics hated it - they always do - but it made $60m (£38.5m) at the US box office earlier this year.
"They're jerks, the critics," Perry beams. "But I'm not concerned about it at all, because the audience comes over and over again."
He has previously described his audience as being "invisible" to mainstream Hollywood.
Predominantly black, female, church-going Americans, Perry got to know them as a stage performer on the so-called "chitlin' circuit" - a series of venues across the US that were considered safe for African-American acts during segregation.
He speaks to them directly, depicting their own relationships in dramas like Why Did I Get Married, and providing comic relief in his cross-dressing appearances as foul-mouthed, gun-toting, proselytising granny, Mabel "Madea" Simmons.
Oprah Winfrey, one of Perry's biggest advocates, describes his films and plays as "a social experiment, a revival, a picnic, a play, a good time".
"I write from my own experiences," Perry explains, "which are southern, which are about love and faith and forgiveness.
"It's unfiltered, it's not gone through a Hollywood system where they make notes and changes. It is as raw as it comes to me."
Born in New Orleans in 1969, Perry was christened Emmit Perry Jr.
He changed his name in his teens as a snub to his father, Emmit Perry Sr, an abusive drunk who he describes as "the worst of the worst".
As a child, Perry recalls, his mother "took me everywhere to protect me from him".
"I would sit with these women and listen to them talk about men, watch them cry together, listen to them just pour their hearts out about the pain they were going through.
"It made me extremely sensitive to women."
Perry's female characters are always strong role-models. He frequently casts plus-size actresses, and makes no comment on their physical appearance. And, when they make mistakes, they are always minor mis-steps compared to the grievous wrongs of their husbands.
Why Did I Get Married Too? tells the story of four couples, whose relationships come under scrutiny over the course of a weekend in the Bahamas.
Perry says he chose it as his first UK release not just because "the timing was right" - but also because of the highly marketable presence of "international superstar" Janet Jackson.
"Tyler is wonderful to work with," she blushes. "We're very well connected and have remained friends since the first film".
Indeed, Perry is somewhat protective of his star turn.
When asked if she drew on personal experience to play Patricia Agnew, who suffers a messy divorce (Janet was sued for $10m by her second husband, Rene Elizondo), he steps in and blocks her answer.
"Come on," he scolds. "She didn't use that at all. She didn't even think about that."
Nonetheless, the director refused to make allowances for Jackson on set, making her carry the film's biggest, weightiest scenes.
"I said, 'I'm going to throw the whole shebang at you'," he recalls, "and you handled it."
The drama culminates with a violent outburst, where Jackson's character smashes up her expensive, glass-filled apartment with a golf club.
It was filmed shortly after the singer returned to work following her brother Michael's untimely death last year - something she refers to elliptically as "the tragedy".
"I was very thankful for that scene, at that moment," she remembers. "It was really cathartic. And I needed it. I really did."
Perry, chipping in, reveals that Jackson's destructive outburst got a little out of hand.
"I should have told her not to hit my arm, because she did do that," he says.
"I hit myself too," Janet adds. "We had three iron shafts and we did three different takes. I kept breaking the shafts and one of them broke off and hit me on the ankle.
"It was really swollen for the duration of the filming and I thought, 'am I going to be able to dance again?'"
Despite the drama, the pair have decided to work together again, and are currently filming an adaptation of Ntozake Shange's Tony Award-winning play For Colored Girls Who Have Considered Suicide When the Rainbow Is Enuf.
Although its themes of love, abandonment, domestic abuse and spiritual fulfilment are familiar territory for Perry, it is perhaps a more complex, mature piece of work than his own oeuvre.
The director was inspired, he says, by working as a producer of Oscar-nominated ghetto drama Precious.
But the workaholic writer, actor, director and producer is under no illusion that he is on the cusp of mainstream acceptance.
As he arrived on stage to present the Academy Award for best editing earlier this year, he took stock of his position in the film firmament.
"They just said my name at the Oscars," he smiled.
"I'd better enjoy it because it will never happen again."
Why Did I Get Married Too? is released in the UK on 3 September.
Related Internet Links
The BBC is not responsible for the content of external sites.