Strictly Come Dancing stars to be revealed on air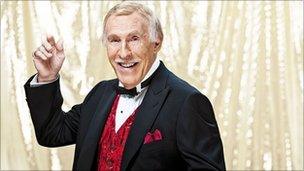 Contestants on this year's Strictly Come Dancing will be revealed in a launch show filmed in front of an audience at BBC Television Centre.
They will also be introduced to their dance partners in the one-hour show, to be aired on 11 September - three weeks before the start of the contest.
It is thought stars will be paid on a per-show basis this year, rather than being given a flat fee for the series.
And it is understood Bruce Forsyth will no longer present the results show.
The 82-year-old - who missed an episode of Strictly last year after catching influenza - has already revealed that he will be taking a pay cut for the 2010 series.
In the newly-announced launch show, dancers and contestants will be filmed arriving on a red carpet and performing a group dance together.
The programme will be shot on 8 September for broadcast three days later.
First meetings between dancers and celebrities in previous series were filmed in dance studios or workplaces and shown in video inserts during the opening episode.
The BBC's Mark Linsey called the "red carpet event" the ideal way to launch "a series that features more excitement and glamour than ever before".
BBC sports presenter Chris Hollins won last year's contest, beating Hollyoaks actor Ricky Whittle.
The show was criticised for failing to attract A-list names but nevertheless attracted an average audience of 9.16 million per show - second only to the previous year's average of 9.54 million.
That series was won by actor Tom Chambers and also featured contestants including John Sergeant and Christine Bleakley.
It has been rumoured that former MP Ann Widdecombe and actress Felicity Kendall will be among this year's contestants.