Zsa Zsa Gabor receives last rites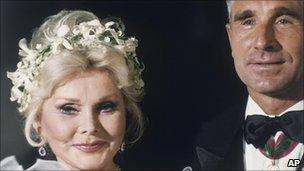 Actress Zsa Zsa Gabor has received her last rites from a priest in a Los Angeles hospital following surgery to remove two blood clots.
"Zsa Zsa Gabor has seen a priest and is not doing very well. She's in a serious condition," her publicist told AFP.
The actress, 93, was readmitted to UCLA Ronald Reagan Medical Center days after her release following hip surgery.
The star was originally admitted to hospital in July after falling and breaking several bones.
Publicist John Blanchette said Gabor's ninth husband, Prince Frederic von Anhalt, and members of her family were with her at the hospital on Sunday.
Gabor, who starred in films including Moulin Rouge and Touch of Evil, is partially paralysed following a car accident in 2002 and a stroke in 2005.