Zsa Zsa Gabor in her own words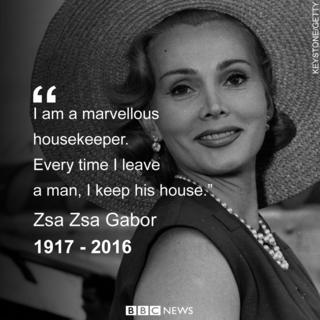 Zsa Zsa Gabor, famed for her nine marriages and her way with words, has died at the age of 99.
Here are some of her most memorable comments:
"Husbands are like fires. They go out when unattended."
"A man in love is incomplete until he has married. Then he's finished."
On former husband George Sanders: "We were both in love with him. I fell out of love with him but he didn't."
"When I'm alone, I can sleep crossways in bed without an argument."
"Never despise what it says in the women's magazines - it may not be subtle but neither are men."
"To be loved is a strength. To love is a weakness."
"Macho does not prove mucho."
"Getting divorced just because you don't love a man is almost as silly as getting married just because you do."
"I don't remember anybody's name. Why do you think the 'darling' thing started?"
"Being jealous of a beautiful woman is not going to make you more beautiful."
"As a teenager, I preferred the company of boys to girls, focusing always on the most indifferent male and flirting with him until he became my slave."
"I love being married. I love the companionship, I love cooking for a man (simple things like chicken soup and my special Dracula's goulash from Hungary), and spending all my time with a man. Of course I love being in love - but it is marriage that really fulfils me. But not in every case."
"I never really mind what people say about me - I am far too unconventional and far too dedicated to being true to myself to let other people's disdain or nastiness upset me for long."