Corrie stage show impresses stars
By Ian Youngs
Entertainment reporter, BBC News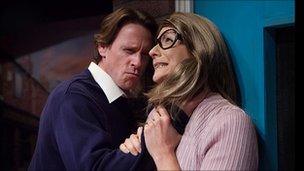 Stars of Coronation Street have given their blessing to a new stage play that condenses the soap's 50-year history into two hours.
Cast members past and present attended the opening night of Corrie!, which is being staged at the Lowry in Salford for the soap's 50th anniversary.
Johnny Briggs, who played Mike Baldwin, said he had been "a bit worried about what it was going to be like".
But he concluded that it was "absolutely fantastic".
Other recognisable faces in the audience on Monday included Barbara Knox, who first appeared as Rita in 1964, David Neilson, who plays Roy Cropper, Sally Dynevor, better known as Sally Webster, and Brian Capron, who played serial killer Richard Hillman.
Briggs saw the fast-paced, tongue-in-cheek stage show cover his character's affair with Dierdre Barlow and his death in 2006.
"I have absolute admiration for the actors who have played the parts here because they were superb," he said. "They got it off to a tee and I'm very much in awe of them.
"It was full of fun. You couldn't take offence at the way they played any of the characters. At the curtain call I was expecting 10 or 12 people to come on."
In fact, just five actors play about 55 characters between them, with Charles Lawson - also known as Jim McDonald - as narrator.
Antony Cotton, another Coronation Street star in the crowd, said the audience "loved it".
"It was full of affection and the right side of rib-tickling, and it took the mickey out of people but in an affectionate way," said Cotton, who plays Sean Tully.
"The actors' characterisations were so spot on it was very spooky. It's great that they got actors to do it rather than impressionists because it was acted beautifully, very touching in parts, but ultimately very, very funny."
Related Internet Links
The BBC is not responsible for the content of external sites.