Artist Sebastian Horsley died of overdose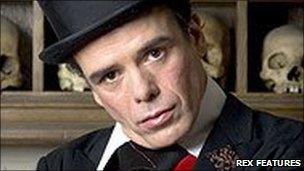 Artist Sebastian Horsley died of a massive heroin and cocaine overdose, an inquest has heard.
Horsley, known for attempting a crucifixion and writing about his prolific use of drugs and prostitutes, was found dead in his flat in June by his girlfriend.
A play based on his writings, Dandy In The Underworld, opened days before the 47-year-old passed away.
Coroner Paul Knapman ruled that he died of "non-dependent abuse of drugs".
There was no sign of any natural diseases and a pathologist recorded the cause of death as multiple drug ingestion.
Tests showed there were with high levels of cocaine, morphine and dihydrocodeine found in his blood.
In 2000, Horsely's attempt to be crucified in the Philippines had to be abandoned after the foot rest of the cross broke.
He was caught before any major physical damage was caused.
The artist, who underwent the procedure in preparation for a series of paintings on the subject, did not take any painkillers.
The artwork and footage of the event were displayed in London in 2002.