Courtney Love settles over Nirvana songs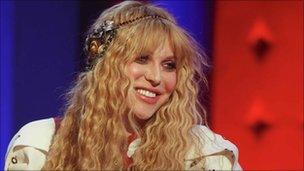 Kurt Cobain's widow Courtney Love has settled a dispute with a management company over the proceeds from a sale of rights to her late husband's songs.
London and Co sued Love for $1m (£645,000) two years ago, claiming she owed them money after selling publishing rights to Nirvana's music.
The firm claimed the singer did not share earnings from the sale, which raised almost $20m (£12.9m).
Love inherited many of the publishing rights when Cobain died in 1994.
The firm told a judge in Los Angeles last week that the case was settled, the Associated Press news agency reported.
Love's lawyer, James Janowitz, confirmed the settlement but did not provide further details.
The Nirvana singer was found dead with a gunshot wound at his home in Seattle, Washington, on 8 April 1994, aged 27.
Related Internet Links
The BBC is not responsible for the content of external sites.