Erykah Badu fined for nude video shoot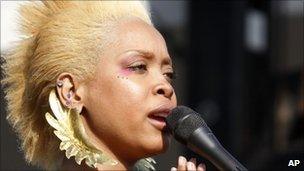 US soul singer Erykah Badu has paid a $500 (£322) fine and will serve six months' probation for stripping naked on a Dallas street for a music video.
The 39-year-old ended filming by re-enacting the moment when President John F Kennedy was shot dead in 1963 in the city.
The Grammy award-winning singer was charged with disorderly conduct when tourists and visitors complained.
A spokeswoman for the singer did not immediately comment.
In March, the star performed a walking striptease as part of the video for Window Seat, before falling to the ground as if she has been shot.
The filming took place at Dealey Plaza, the location where President Kennedy was assassinated.
In April, Sgt Mitchell said that "people calling from all across the country to express their concern" about the making of the video.
A Dallas city spokesman confirmed that Badu had paid the fine.