World Cup boosts TV viewing figures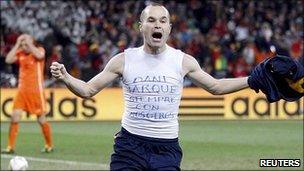 The World Cup contributed to a rise in the number of hours people spent watching TV in the first six months of the year, according to research.
Broadcasters' Audience Research Board (Barb) data suggests that, in the year to June, viewers watched an average of 28 hours and 15 minutes each week.
That is up 48 minutes on the same period last year.
Commercial TV marketing body Thinkbox said the rise could also be attributed to more Britons staying at home.
It suggested people were staying in because of the economic downturn - and were tempted to watch more TV because of the increased choice in channels as more households went digital.
The findings were reinforced by financial results from cinema chain Cineworld, which reported a 3% fall in admissions in the first half of the year.
Thinkbox chief executive Tess Alps said new ways of measuring viewing - which more accurately captured second TV sets and watching on-demand - had also been introduced.
"We know that technology is also making TV ever more attractive and we should never underestimate the fundamental importance of compelling content," she added.
The figures, published in Thinkbox's half-year viewing review, only include shows watched on TV sets, which were viewed live or within seven days of broadcast.
The data suggests that commercial TV accounted for 62% of viewing.
Recorded programmes and on-demand services accounted for 7.1% of all TV watched in the UK while 80.4% of "time-shifted" viewing took place within a week of original broadcast.
Meanwhile, a report by media regulator Ofcom suggests that more than half of people aged 65 and over think TV programmes have become worse.
Ofcom interviewed 2,044 adults between April and October 2009.
Of those adults who thought TV had got worse in the past year, 65% cited an increase in the number of repeats as a reason.
A third of of those who thought it had deteriorated cited "lack of variety".
The report also suggest that people in the UK spend seven hours a day watching TV, surfing the net and using their mobile phones.
Related Internet Links
The BBC is not responsible for the content of external sites.