Pamela Anderson: Why I'm doing pantomime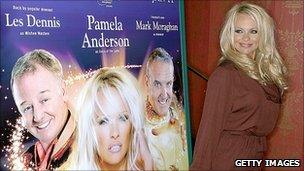 She is fondly remembered for running along a Californian beach in slow motion. For her next role, former Baywatch pin-up Pamela Anderson will visit the festive, innuendo-filled fairytale world of pantomime.
The actress and Playboy model will star opposite Les Dennis in Aladdin at the Liverpool Empire this Christmas.
Anderson starred in Baywatch from 1992-97 and her appeal helped it become recognised by the Guinness World Records as the most watched TV series in history, with an estimated weekly audience of 1.1 billion at its peak.
She explains why she thinks panto would go down well in the US, says she is not doing it for the money - and reveals why she is living in a trailer park.
I thought I was miming in a box, which wasn't the case but I already said I would do it even when I thought it was that.
My manager at the time was British so he told me 'you're probably not going to want to do this'. I always know, when someone says that to me, that I probably will want to do it. He explained to me what pantomime was and I thought it was a fantastic idea. But I was thinking mime.
I thought it was great. People always say Americans don't get it, but I think it's terrific. I wish they did more theatre like this in America. I think people would love it.
And it's nice [that] children experience theatre for the first time sometimes coming to panto and I think it would be nice to encourage that in America as well, at a younger age.
Oh I don't know. Hopefully the children. Everyone's a child. Especially men.
I play the Genie in the lamp and I was wearing a bedazzled red swimsuit last year. I may have another friend design the costumes this year, I seem to have a lot of friends that want to help out. Philip Treacy will make me a hat, of course - something wild and fun.
That's fine with me - of all the things to refer back to I think that's one of the things I can be happy about. Of course, you've got to poke fun at yourself.
I'm happy with that. I feel most comfortable. It seems silly that I'm on stage, even though I'm starting to enjoy it and hopefully will do more. I love the whole process of the theatre and I think I've really gotten the bug.
It's not a lot of money! It's actually for the fun. Of course it's a job as well but I really enjoy doing it and it's a great experience, like Dancing With the Stars was.
I love being on the stage. I love doing something new. It's challenging, it's scary, it's all the good things that I really like. It's thrilling and it's doing things like this that keeps you out of trouble.
I don't know if it's Strictly Come Dancing but I know I've been invited to the UK to do some dancing. Any chance I can to dance because I love it so much so I'm sure we're going to be doing things and hopefully here. I would in a second.
I have a few homes. I'm building a home in Malibu and I'm building a home in Canada. I bought a trailer a long time ago and friends and family have stayed in it before, and I finally said, you know what, we're just going to stay in here until my house is done.
And actually we love it so much that we don't want to leave. My kids don't want to leave.
Pamela Anderson was speaking to BBC News entertainment reporter Ian Youngs.
Related Internet Links
The BBC is not responsible for the content of external sites.