South African Weakest Link host Fiona Coyne found dead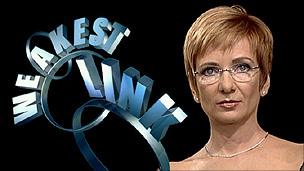 TV presenter Fiona Coyne, who hosted the South African version of quiz show The Weakest Link, has been found dead at her home, police have confirmed.
Captain Stephen Knap, of Cape Town police, said Coyne's housekeeper found the star's body at her home in Fish Hoek on Wednesday.
He refused to confirm reports that the 45-year-old had killed herself.
He said an inquest would be held to determine the cause of death.
Coyne is also a playwright and actress, and wrote the book Who Moved My Ladder? The Working Woman's Guide to Success.
She beat 500 hopefuls to the job and flew to London to train with British Weakest Link presenter Anne Robinson in 2003.