Jamie Oliver diet show wins Emmy award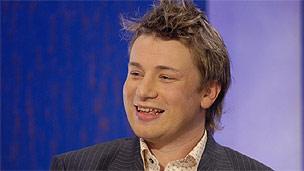 British chef and TV personality Jamie Oliver has won an Emmy award for his US series Jamie Oliver's Food Revolution.
The show, which highlighted childhood obesity, was named best reality show at the creative arts Emmy ceremony.
Other winners included Golden Girls star Betty White, named best guest actress in a comedy series for her turn as host on Saturday Night Live.
The creative arts Emmys, which honour technical achievements, are a precursor to next week's main Emmy awards.
Neil Patrick Harris was both a presenter and winner at the ceremony, taking home two prizes - his first-ever Emmys in a 22-year television career.
The actor, who rose to fame playing child medic Doogie Howser MD, was named best guest actor in a comedy series for his appearance on Glee.
He was also recognised for hosting last year's Tony Awards ceremony, which received a trophy for best special class programme.
John Lithgow took home the prize for outstanding guest actor in a drama series for his season-long appearance on serial-killer drama Dexter.
The actor, whose film roles include Terms Of Endearment and Footloose, accidentally thanked the wrong TV channel in his acceptance speech.
"Oh my god. I'll never live that down," he said, when informed of the mistake backstage. "They'll probably be taking this [award] back now."
Critical darling Mad Men won in two categories - best hairstyling and best casting in a drama series - raising the prospect of further wins at next week's main prizegiving.
Elsewhere, BBC drama Return To Cranford was honoured with the best costumes (mini-series) award, and Hollywood star Anne Hathaway was given the prize for best voice-over, following her guest role as Princess Penelope in The Simpsons.
The main winner was subscription-only cable network HBO, which took home 17 trophies, seven of which were for its World War II mini-series The Pacific.
Related Internet Links
The BBC is not responsible for the content of external sites.