Michael J Fox 'to make TV return'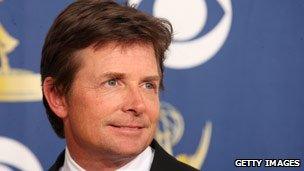 Actor Michael J Fox, who has Parkinson's Disease, is to return to television as a guest star in US drama The Good Wife, according to reports.
The 49-year-old will play a "shrewd and cynical" lawyer who uses his condition as a bargaining tool, Entertainment Tonight reported.
"We're absolutely thrilled," the show's producers told the tabloid TV show.
Fox, who found international fame in the Back To The Future film series, semi-retired from acting in 2001.
He had previously starred in the hit sitcoms Family Ties and Spin City, but quit to devote his time to his family and finding a cure for Parkinson's Disease.
The Emmy award-winning star has since set up his own foundation to help fellow suffers, testified to the US Congress, and acted as an advocate for stem cell research.
Last year, he was awarded an honorary medical degree by Sweden's Karolinska Institute for his work.
Fox went public with his illness in 1998 but had been diagnosed with the degenerative disease in 1991 after realising something was wrong when he could not stop his hands shaking.
His struggle with Parkinson's was documented in his 2002 autobiography, Lucky Man, where he revealed he had turned to drink after the diagnosis, almost destroying his marriage in the process.
He described his symptoms as including "rigidity, shuffling, tremors, lack of balance [and] diminished small motor control".
In recent years, he has made a small number of cameo appearances, including roles in TV series Boston Legal and Rescue Me, as well as lending his voice to characters in animation movies, including Stuart Little.
His role on The Good Wife was revealed by producers Robert and Michelle King.
The US legal drama stars Julianna Margulies as Alicia Florrick, who is forced to return to work when her politician husband is jailed for corruption.
Margulies won Golden Globe and Screen Actors' Guild awards for the role earlier this year.
The second series begins in the US next month, and will be shown on Channel 4 in the UK.
Meanwhile, Fox will be seen on the big screen again this autumn when Back To The Future receives a limited cinematic re-release to celebrate its 25th anniversary.
Related Internet Links
The BBC is not responsible for the content of external sites.