Beatles director Richard Lester donates archives to BFI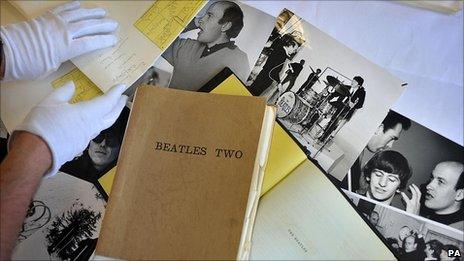 The draft scripts for The Beatles' films A Hard Day's Night and Help have been donated to the British Film Institute by director Richard Lester.
Simply titled The Beatles and Beatles Two, they form part of Lester's archive, which is all going to the BFI.
The treasures include correspondence from Hollywood stars Audrey Hepburn, Raquel Welch and Charlton Heston.
The archive also contains a "begging letter" from Spike Milligan, who offers to do laundry in exchange for a job.
The comic, who rose to fame on The Goon Show, wrote to Lester in 1980, saying he was bored with television and "no matter how small I would like a part, preferably the lead".
Milligan, who died in 2002, reminded the director he had previously worked as a "straight actor", adding: "Have own beard and wig, on site laundry done and secret masses said for Polish Catholics."
In fact, it was Lester's association with Milligan that had launched his film career.
He was instrumental in adapting radio comedy programme The Goon Show for television, in the 1956 series The Idiot Weekly, Price 2d.
That led to further work with Milligan and fellow Goon Peter Sellers - including a short film, The Running Jumping And Standing Still Film, which caught the eye of The Beatles.
Lester's success with the Fab Four made him a mainstay of the Swinging '60s scene. Bawdy sex comedy The Knack... And How To Get It exemplified the era, and went on to win the Palme d'Or at the Cannes Film Festival.
The director later found box office success in Hollywood, directing Christopher Reeve in Superman and Oliver Reed in The Three Musketeers.
The American-born filmmaker, now 78, said he had decided to donate his archive to the BFI because of a "long association" going back "over 40 years".
"The organisation has always been very helpful to me," he said. "It is a pleasure for me to be able to offer them the detritus of my working life."
Related Internet Links
The BBC is not responsible for the content of external sites.