Singer Faith Evans on drink-driving charge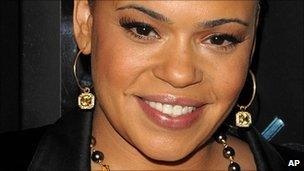 Grammy-winning singer Faith Evans has been arrested on suspicion of drink-driving in Los Angeles.
Police said the 37-year-old showed signs of being under the influence of alcohol when she was pulled over at a checkpoint.
The singer was held for four hours and released on bail pending formal charges.
Evans, the widow of rapper Notorious B.I.G, won a Grammy in 1998 for the song I'll Be Missing You.
She spent 13 weeks in drug rehab after being arrested in Atlanta in 2004 and charged with cocaine and cannabis possession.
The singer is reportedly filming a reality TV show marking her planned comeback to the music industry after a five-year absence.