X Factor admits tweaking vocals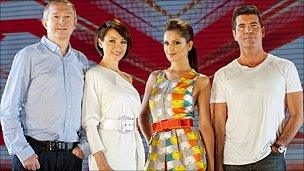 X Factor bosses have admitted using vocal enhancement processes on the ITV talent show.
Fans had claimed after the opening show that "auto-tuning" had been used to improve some contestants' voices.
It is used in recording studios to improve performances by correcting pitch and disguising off-key mistakes.
An X Factor spokesman said post-production work was necessary on the show due to the number of microphones used during filming.
"The judges make their decisions at the auditions stage based on what they hear on the day, live in the arena," the spokesman added.
"The footage and sound is then edited and dubbed into a finished programme, to deliver the most entertaining experience possible for viewers.
"When it gets to the live shows, it will be all live."
Fans took to The X Factor's internet forums after the show to voice their concerns.
The focus of the debate surrounded 18-year-old contestant Gamu Nhengu, who sang Katrina and the Waves' hit Walking On Sunshine.
After hearing her effort, judge Simon Cowell told her she was "really talented" before she was unanimously voted through to the next round.
But viewer Smstrat91 said: "Cannot believe they autotuned her, listen to the words 'door' and 'telephone' and it's very clear. She's so good as well, but obviously the producers of X Factor didn't think she was good enough."
The first episode of this year's series was watched by 11.1 million people, up from last year's figure of 9.9 million.
Related Internet Links
The BBC is not responsible for the content of external sites.