Egyptian minister held over Van Gogh theft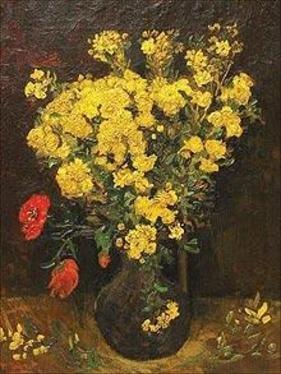 The Egyptian government's head of fine arts has been remanded in custody pending an investigation into the theft of a Van Gogh painting at the weekend.
Muhsin Sha'lan, first under-secretary at the culture ministry, was accused of "negligence", according to the state news agency Mena.
Several other officials were believed to have been detained at the same time.
The theft of the $50m (£32m) painting from a Cairo museum on Saturday has been blamed on poor security.
The work - known as both Poppy Flowers and Vase And Flowers - was cut from its frame at the Mahmoud Khalil Museum during the day on Saturday.
Egypt's top prosecutor, Abdel Meguid Mahmud, said none of the alarms at the museum and only seven out of 43 security cameras were working.
He added that the broken alarms and cameras had not worked for some time.
Egyptian newspaper Al-Ahram said nine culture ministry employees had also been barred from travelling as part of the investigation into the disappearance.
Government officials were not available for comment.
Police are reported to be focusing their hunt for the missing Van Gogh on Egypt's air and sea ports.
There was confusion on Saturday when Egypt's culture minister mistakenly said the painting had been recovered.
Farouk Hosni had said two Italians had been arrested at Cairo airport in connection with the theft after visiting the museum earlier in the day.
But he later said he had been given "inaccurate" information, and the painting was still missing.
Mena reported that the Italians had aroused suspicion after they were seen visiting a toilet and then rapidly leaving the premises.
On Monday, the agency reported that the Italian Embassy in Egypt had denied the report.
The work, measuring 30cm by 30cm (1ft by 1ft), and depicting yellow and red flowers, is believed to have been painted by Vincent Van Gogh in 1887, three years before his death from a self-inflicted gunshot wound.
The painting was previously taken from the same museum in 1978, but recovered a decade later in Kuwait.
The Mahmoud Khalil Museum was built by an Egyptian politician of the same name in the 1930s, and also holds works by Monet, Renoir and Degas.