Obituary: Jimmy Perry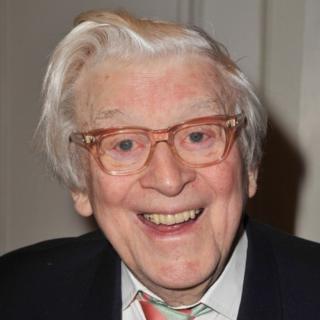 Jimmy Perry was best known as the creator of Dad's Army, one of television's most popular, and long running sitcoms.
His 25-year partnership with David Croft also produced It Ain't Half Hot Mum, Hi-de-Hi and You Rang M'Lord?
Much of his writing was based on his own varied work experiences which included a spell as a Butlin's Redcoat.
He also had an encyclopaedic knowledge of music hall, something he used to good effect when he presented the BBC series Turns, which chronicled variety performances from the 1930s and 40s.
Jimmy Perry was born on 20 September 1923 in Barnes, south-west London.
His fascination for the world of showbusiness came at an early age and, while still at school, he had his sights set on becoming a stand up-comedian.
When war broke out in 1939 he was too young for the army so he signed up in his local Home Guard.
It was an experience on which he would later draw when he conceived Dad's Army, basing many of the characters on soldiers he met in the ranks.
He was called up in 1941 and sent to Burma where he became part of a Royal Artillery Concert Party, set up to entertain the troops.
After the war he began training as an actor at Rada, subsidising his studies with spells as a Redcoat at Butlin's holiday camps.
For many years Perry ran the Palace Theatre at Watford as part of a small repertory company that produced a different show each week.
Reservations
Among the aspiring performers who appeared there was Ruth Llewellyn who would later become Ruth Madoc, the indomitable Gladys Pugh in Hi-de-Hi..
In the early 1960s he was playing a series of bit parts in TV comedy and began working on an idea for a sitcom about the Home Guard which he entitled The Fighting Tigers.
Perry showed his idea to TV producer David Croft, who took it to the BBC's head of comedy, Michael Mills.
The BBC had some initial reservations that the programme might be seen to be poking fun at the Home Guard, but Mills was persuaded to commission the first series.
Mills changed the title to Dad's Army, renamed some of the characters and altered the fictional location to Walmington-on-Sea.
Perry himself had envisaged playing the spiv, Private Walker, but David Croft, who was drafted in to help Perry with the scripts, advised against it.
Many of Perry's characters in Dad's Army were taken from real life. One elderly soldier of his acquaintance recalled serving under Kitchener and became the inspiration for Corporal Jones.
Lyrics
Private Pike was based on Perry himself, who recalled his mother's anxiety over her teenage son being out at night in the cold, defending the country.
"She didn't go so far as making me wear a scarf," Perry later recalled. "But she came pretty near."
Dad's Army first aired on 31 July 1968, with a total of 80 episodes appearing over the following nine years.
Since then it has rarely been off the screen thanks to a series of repeats.
As well as co-writing the script, Perry wrote the lyrics for the opening song, Who Do You Think You Are Kidding Mr Hitler, which he persuaded his great music hall idol, Bud Flanagan, to perform.
The song won the 1971 Ivor Novello Award for Best TV Signature Tune.
In 1969 Perry went solo to write The Gnomes of Dulwich, a sitcom that satirised the Common Market.
Room Service
Starring Terry Scott and Hugh Lloyd as concrete British gnomes threatened by their plastic European counterparts, the show ran for just six episodes.
Dad's Army was still appearing regularly when Perry and Croft decided to draw on their wartime experiences in the Far East for It Ain't Half Hot Mum.
The show centred on a British army concert party whose duty was to entertain the front-line troops. A similar scenario appeared in the 1977 film, Privates on Parade.
The first episode was transmitted on 3 January 1974 and the series ran for more than seven years.
In 1979 Perry again went out on his own to write the ITV sitcom, Room Service. Together with a later effort without Croft, High Street Blues, it became a contender for the worst British sitcom ever.
The following year saw Perry and Croft back together again for Hi-de-Hi, based on Perry's experiences at Butlin's.
Set in a 1950s holiday camp, the series ran for eight years and collected a Bafta in 1984 for Best Comedy Series. Perry wrote the theme tune, Holiday Rock.
Memorable
The series spawned a musical featuring most of the TV cast, which ran in Bournemouth, London and Blackpool in 1983 and 1984.
Perry's final collaboration with David Croft came with You Rang M'Lord?, which turned out to be their least successful effort.
Once again Perry based the idea on reality, this time the experiences of his grandfather who had been a butler in a large household.
Unusually for a sitcom, the episodes were 50 minutes in length and featured high production values. Despite this, it was not well received by critics, although it ran for 26 episodes.
In 2003 Perry and Croft received a Lifetime Achievement Award at the British Comedy Awards.
The release of a film version of Dad's Army in 2016 divided fans of the series but Perry gave it his blessing by attending the premiere in London.
Jimmy Perry was half of one of the most successful writing partnerships in TV comedy. In his memoir, Stupid Boy, he chronicled some of the real-life individuals on which he based the likes of Captain Mainwaring, Corporal Jones, Gladys Pugh and the fearsome Sgt Major Williams.
While Croft brought his experience as a producer and director it was Perry's great observational skills which peopled their work with such memorable characters.
---
What are your memories of Jimmy Perry? Did you meet or work with him? Email haveyoursay@bbc.co.uk with your stories.
Please include a contact number if you are willing to speak to a BBC journalist. You can also contact us in the following ways: