Ansel Adams trust sues over photographic print sales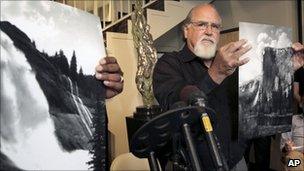 The estate of the acclaimed late photographer Ansel Adams is suing a man who has apparently been selling prints he claims are Adams's work.
The Ansel Adams Publishing Rights Trust, which filed the legal case in the US, wants to stop Rick Norsigian selling images it does not endorse.
In July, Mr Norsigian's lawyer said experts concluded "beyond reasonable doubt" the prints were Adams' work.
The case has "no merit", Mr Norsigian's lawyer Arnold Peter added.
It alleges trademark infringement, false advertising, trademark dilution, unfair competition and other claims.
Although the case does not specify damages, the trust has asked the court to order the defendants to hand over any profits made from any sales.
It also claims there is "substantial evidence" suggesting the negatives were created by another photographer, Earl Brooks.
Adams's representatives insist the negatives are fraudulent.
"I'm sure Ansel never would've imagined a scam on this scale," said Bill Turnage, the trust's managing director.
"I never thought it would come to this, but we have to try to do our duty to protect his work and reputation."
But Mr Peter responded by saying: "We are disappointed that the Ansel Adams Publishing Rights Trust has decided to resort to the courts in order to resolve what, in our view, is a debate that should be resolved by art and forensic experts."
Mr Norsigian said he bought the negatives 10 years ago at a garage sale for $45 (£34).
For years he has been trying to verify the photos, which were believed to have been destroyed in a 1937 fire at Adams's studio in Yosemite National Park.
He has set up a website to sell prints made from some of the negatives.
Related Internet Links
The BBC is not responsible for the content of external sites.