Ant and Dec's bid to bring back Name That Tune scrapped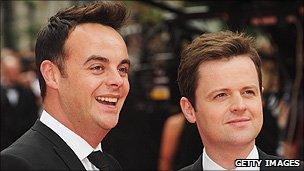 Ant and Dec's plans to revive gameshow Name That Tune for Channel Five have been abandoned over an issue with the owners of the format.
The TV duo announced in October that their company would revive the show, which was popular in the 1970s and 80s.
Five, which was recently acquired by publishing mogul Richard Desmond, will now produce a new music quiz show called The Beat Goes On.
It will test musical knowledge and singing and dancing ability.
The programme will be presented by Dave Berry.
A statement from Channel Five, Ant and Dec's company Gallowgate and GroupM Entertainment - who are co-producing the new show - said they agreed with the Name That Tune format holders not to pursue a revival.
When the return of the quiz was announced last year, Five hailed it as "peak-time entertainment for a sophisticated 21st century audience".
Name That Tune began life as a segment in 1970s TV show Wednesday At Eight, but it became a show in its own right in the 1980s with comedian Tom O'Connor at the helm.
He was eventually replaced by Lionel Blair.
It is not the first time Five has attempted to revive the show, as Jools Holland hosted a short-lived version in the late 1990s.
Related Internet Links
The BBC is not responsible for the content of external sites.