Songwriter George David Weiss dies aged 89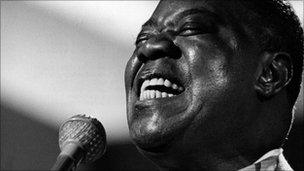 US songwriter George David Weiss, who helped write chart-topping tracks such as Can't Help Falling In Love and What a Wonderful World, has died aged 89.
The musician died of natural causes at his home in Oldwick in New Jersey, his wife Claire said.
Weiss also co-wrote songs which were recorded by Frank Sinatra, Perry Como and Elvis Presley.
He collaborated on several Broadway musicals including Mr Wonderful and Maggie Flynn.
A talent musician, he played piano, violin, saxophone and clarinet.
However, his mother was always against his chosen career in the music industry and tried to persuade him to train as a lawyer.
Weiss was a military bandleader in World War II, but it was at songwriting that he began to excel.
Some of the other notable compositions he wrote or co-wrote included The Lion Sleeps Tonight, which was recorded by the Tokens and Oh! What It Seemed to Be, which was sung by Frank Sinatra.
But his most famous song was What a Wonderful World, which he wrote in 1967 with Bob Thiele.
Louis Armstrong's version of the song was a worldwide hit and was used in the 1987 film Good Morning, Vietnam.
In 1984, Weiss was inducted into the Songwriters Hall of Fame and became president of the Songwriters Guild of America until 2000.