Architects gear up for Biennale in Venice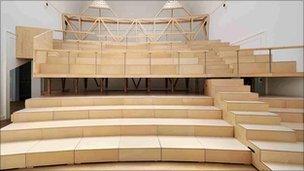 Venice's prestigious architecture festival, the Biennale will open on Sunday with the theme People Meet in Architecture, it has been announced.
Four dozen exhibitors including architects, engineers, artists and studios will participate in the 12th themed event.
Japanese architect Kazuyo Sejima - who co-won the Pritzker prize - is the Biennale's first female director.
The event is scheduled to run until 21 November.
"This show will be a chance to experience the manifold possibilities of architecture, as well as to account for its plurality of approaches, each one of them being a different way of living," Sejima said.
The British Pavilion was commissioned by Vicky Richardson, Director of Architecture, Design and Fashion at the British Council.
The centrepiece is a 1/10 scale model of a section of the Olympic Stadium for London 2012.
Built by Venetian carpenters Spazio Legno, the structure will be reconstructed on another site in Venice as a lasting legacy of the project.
Albania, Bahrain, Malaysia, Morocco and Rwanda will all be included in the festival for the first time this year.
The pavilions of the Biennale will stretch over Venice's Arsenal and Giardini areas in the east of the lagoon city.
Related Internet Links
The BBC is not responsible for the content of external sites.