Kevin Spacey and Sam Mendes to reunite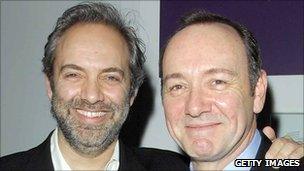 Kevin Spacey and director Sam Mendes are to reunite more than 10 years after working together on the Oscar-winning movie American Beauty.
Spacey will star in Richard III, which will open in February 2012.
"Sam is one of the finest directors I have had the pleasure to work with and to gain this opportunity is beyond my wildest hopes," the actor said.
The production will open in New York, before touring internationally.
It will show at London's Old Vic Theatre, where Spacey is artistic director.
"With such a remarkable character before me, I have a feeling this one is going to be a memorable experience," Spacey said.
Richard III, who battled for the throne during England's 15th century Wars of the Roses, is one of Shakespeare's great villains and has been played by both Sir Laurence Olivier and Sir Ian McKellen.
Mendes said it was "a role I think Kevin is born to play".
The 1999 film American Beauty scooped five Academy Awards, including best actor for Spacey and best director for Mendes.
Since then, Mendes - who separated earlier this year from his wife Kate Winslet - has directed plays and movies, including Revolutionary Road and Away We Go.
The production is the third and final season of the Bridge Project, which brings together British and American actors in classic plays.