TV viewers 'want to influence plots'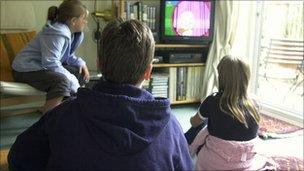 Viewers want more access to interactive TV in the future including the ability to influence plots in programmes, a survey has revealed.
The YouGov poll, which questioned more than 2,000 people, found 69% of people wanted live voting to alter storylines in shows.
Viewers are increasingly likely to surf the internet or text as they watch TV.
Using Facebook in front of the TV was popular with 87% of people saying they had posted comments while viewing.
Almost half - 47% - said they would like to access the networking site through their television.
And 21% said they wanted to use internet shopping sites in the same way.
Ivan Ristic, director at Diffusion PR, which commissioned the study, said: "Television programming is heading the same way as traditional print media - the internet.
"Consumers are keen to be more involved with plot direction and want up-to-the-minute information to be able to know what songs are playing and where they can buy their favourite characters' outfits.
"The trend shows that viewers want instant commentary and recommendation by their family and friends."
He said people were "currently turning to social networks and text messaging to do this whilst watching".
Related Internet Links
The BBC is not responsible for the content of external sites.