No auto-tune on American Idol, bosses say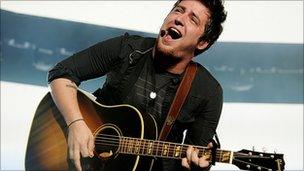 American Idol bosses say they have never used "auto-tune" technology to improve contestants' vocals.
They were responding to the recent furore surrounding the use of pitch-correction technology on ITV's X Factor to enhance performances.
"We have never, nor would we ever, use auto-tuning during the American Idol competition," producers said.
X Factor producers said on Thursday they would no longer use sound filters to correct contestants' voices.
"American Idol viewers can attest that contestants have been regularly scolded for 'pitchiness'," the statement added.
X Factor bosses admitted using auto-tune in post-production after fans complained it had been used during the first episode of the new series, which began on Saturday.
American Idol judge Simon Cowell left the show earlier this year to head up a US version of X Factor for 2011.
Related Internet Links
The BBC is not responsible for the content of external sites.