Comic acts top YouTube earners' list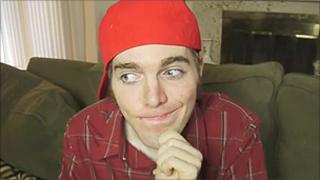 Comic acts dominate a new list of the biggest-earning independent video makers on YouTube.
US satirist Shane Dawson made $315,000 (£203,000) from his films, which have amassed 431.7m hits in the past year, according to tracking site TubeMogul.
Other self-made comedy acts on the list include The Annoying Orange, at two, and a teenager behind helium-voiced character Fred.
Their incomes are made through advertising revenue on the website.
The top 10 earners all come from the US apart from Australian Natalie Tran, whose most popular video to date has been How To Fake A Six-Pack.
The seventh-placed earner was Greg Benson, creator of comedy channel Mediocre Films which has made $116,000 (£74,800) and amassed more than 159 million views in the past year.
Benson is best known for the Gorgeous Tiny Chicken Machine series, produced three years ago with his wife.
Their earnings are small compared to established mainstream stars, but creating homemade videos and uploading them onto the internet has become a bankable art form.
Some of the most successful video-makers are heading for greater success, with Dane Boedigheimer - the creator of The Annoying Orange - reportedly in talks to make a TV pilot.
David Birch, from TubeMogul, said: "It's pretty amazing that some of these guys are making a decent living."