Last of the Summer Wine finale attracts 5.4m viewers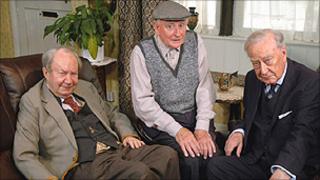 The final episode of long-running sitcom Last of the Summer Wine attracted 5.4 million viewers, according to overnight figures.
The show's swansong picked up nearly a million extra viewers compared to last Sunday night's episode on BBC One.
But the comedy, which has been axed following 37 years on air, attracted audiences of up to 20 million people in its heyday in the early 1980s.
Original character Norman Clegg delivered the show's closing line.
Actor Peter Sallis said: "Did I lock the door?" in a nod to his increasing forgetfulness.
The last episode culminated in a routine about a pair of trouserless policemen and a bus in the charge of a hapless driver.
It was not a specially-written episode to mark the demise of the comedy.
The Yorkshire-based serial, written by Roy Clarke, is about a group of pensioners growing old disgracefully. It ran to 295 episodes.
Its best-loved characters over the years included Compo, who was played by the late Bill Owen, and Nora Batty, who was played by Kathy Staff until her death in 2008.