Actress Zsa Zsa Gabor unconscious in hospital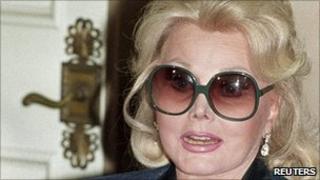 Actress Zsa Zsa Gabor has been rushed back to hospital in Los Angeles after slipping into unconsciousness, her publicist has confirmed.
The 93-year-old was in "a great deal of pain" on Tuesday and her husband, Frederick Prinz von Anhalt, found her to be "not responsive".
The star has suffered a number of health-related setbacks since breaking her hip in July.
Gabor's daughter Francesca Hilton said she was now "stable".
Hilton's spokesman Ed Lozzi told the AFP news agency that the star is "not in a life-threatening situation."
In August the former beauty queen received the last rites from a priest following surgery to remove two blood clots.
She had been discharged from hospital four days previously.
Gabor, who starred in films including Moulin Rouge and Touch of Evil, is partially paralysed following a car accident in 2002 and a stroke in 2005.