Bob Dylan Brazilian-inspired art debuts in Denmark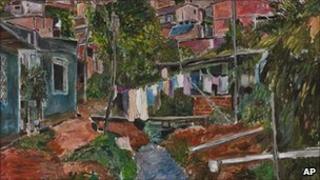 Some of musician Bob Dylan's artwork, that has never been shown to the public, is to be displayed at Denmark's National Gallery.
Curator Kasper Monrad said that the 40 acrylic paintings were specifically made for the Danish exhibition, which opens on Friday.
The Brazil Series includes figurative scenes from Brazilian slums, farms and beaches.
The exhibition will run until the end of January.
The 69-year-old singer sketched the scenes during visits to the South American country and then painted them on canvas in a studio.
"I chose Brazil as a subject, because I have been there many times and I like the atmosphere," Dylan said in a statement.
Monrad said there were connections between Dylan's music and his art: "This is a different kind of imagery. The paintings and the music are two different worlds."