Jennifer Saunders writing Spice Girls musical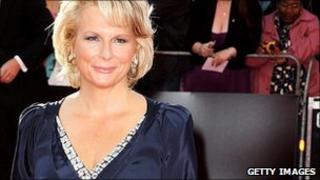 Jennifer Saunders is writing the story for the Spice Girls musical Viva Forever, it has been revealed.
Saunders, 52, said she was "thrilled and terrified" but that the project had been "great fun so far".
The show is the idea of Judy Craymer, producer of Abba musical Mamma Mia! - a global hit on stage and screen.
Viva Forever is based on Spice Girls songs but will feature a "new contemporary story about friendship, celebrity and fame", Craymer said.
Absolutely Fabulous star Saunders, who last year received the Bafta TV fellowship along with comedy partner Dawn French, said: "It is very exciting to be writing a musical that encompasses the music and energy of the biggest girl band of all time.
"My daughters grew up with The Spice Girls - I had to write the book for them as well as myself."
Craymer added: "Having Jennifer Saunders on board is the best possible start Viva Forever can have."
She said Saunders would be "brilliant" at writing about the play's themes and that the songs of the Spice Girls connected "powerfully in a smart and moving way".
Producers are planning a 2012 West End opening.
In July, Saunders revealed she had just completed treatment for breast cancer after being diagnosed last October.