Joy Division designer Peter Saville tackles England kit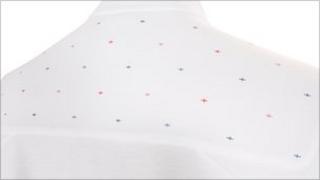 The England football team have turned to former Joy Division and New Order record sleeve designer Peter Saville to create their new strip.
Saville, who made his name working for Factory Records, has added small red, blue, green and purple crosses to the shoulders of the white home shirt.
They reflect the fact England is "one of the most culturally diverse nations in the world", he said.
The kit was worn for the first time when England faced Bulgaria on Friday.
"Both the nation and the fans themselves are more diverse than ever before - whether that's differences in politics, religion, ethnicity, fashions, music and art," Saville said.
"The landscape of England has shifted dramatically over the past couple of decades and we are now one of the most culturally diverse nations in the world."
The new kit provided "the perfect canvas" to reflect England in 2010, he explained.
"The reality of modern England is expressed in this pattern as it reclaims the St George's cross to positively represent our contemporary society."
The new kit has been created under a new deal between the Football Association and manufacturers Umbro, which will run until 2018. It goes on sale on 12 October.