Prince Charles and Tony Blair to appear on Daybreak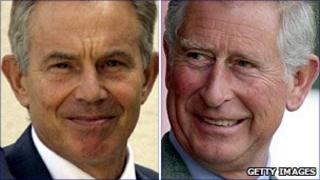 The Prince of Wales and former UK Prime Minister Tony Blair will be guests in the first week of new ITV morning show Daybreak, producers have revealed.
Hosts Adrian Chiles and Christine Bleakley will speak to Mr Blair on Monday in his first live UK interview since his memoirs were published.
On Friday, they will speak to Prince Charles about Start, his new sustainable living initiative.
Daybreak replaces GMTV which ended on Friday after more than 17 years.
Speaking at the Daybreak launch last week, Chiles said he and Bleakley were "gutted" over the way they left BBC One's evening magazine programme The One Show.
Chiles announced his departure in April because of BBC plans for Chris Evans to take his place on the weekday show on Fridays.
"We were both very happy to stay," Chiles said.
"Nothing needed to change - but obviously change was suggested on The One Show I couldn't live with and that's why I left."