Jerry Hall artwork tipped to fetch £1.5m at auction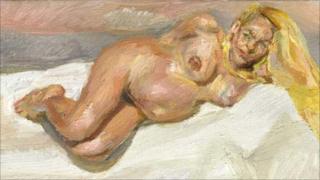 Contemporary artwork owned by model Jerry Hall are expected to fetch more than £1.5 million when they are sold next month at Sotheby's in London.
Among the 14 works up for grabs is a nude portrait of Hall, painted by Lucian Freud in 1997 when she was eight months pregnant.
Dollar Sign, a gift to Hall from Andy Warhol, will also go under the hammer on 15 and 16 October.
"At a certain age you just want to get rid of things," said the 54-year-old.
"It's good to be in the moment and change," she continued. "I'm not afraid of change."
Two other portraits of Hall figure in the collection, a 1997 work by Francesco Clemente and a 2003 piece by Edward Ruscha.
The collection also includes two additional works by Freud, another by Warhol and a photograph of the late east-London gangster Ronnie Kray by David Bailey.
Oliver Barker of Sotheby's said the paintings offered "a very personal and unique insight" into Hall's life.
"Together they narrate Miss Hall's outstanding story," said Barker, the auction house's senior director and senior international specialist in contemporary art.
The former wife of Rolling Stone Mick Jagger, Hall has since reinvented herself as a stage and screen actress.
She is currently in Australia appearing in the stage version of The Graduate at His Majesty's Theatre in Perth.