Terry Gilliam loses Don Quixote backers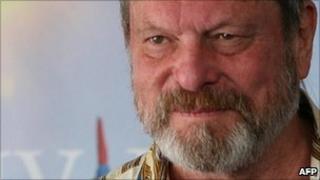 Terry Gilliam has said his latest attempt to make a film about Don Quixote has stalled after his financial backers pulled out.
The director told Variety magazine that financing for his take on the Spanish knight-errant "collapsed about a month and a half ago".
His film, in the making for more than a decade, has been beset by problems.
The original shoot, in 2000, was aborted after the star, Jean Rochefort, injured his back.
Filming had already been disrupted when sets in Spain were washed away by flash floods after just two days.
Years of legal wrangling and arguments with insurers delayed production even more.
In the interim, Gilliam filmed hits including The Brothers Grimm and The Imaginarium of Doctor Parnassus - both starring Heath Ledger.
Speaking to the BBC in October last year, the former-Monty Python star confirmed work had recommenced on The Man Who Killed Don Quixote.
"The budget arrived yesterday. I've been looking at locations in Spain and already started casting, so it begins!" he said.
Oscar-winning actor Robert Duval was set to play the lead character, while Ewan McGregor had been cast in the role of a modern-day advertising executive who travels back in time and meets Don Quixote - a role which Johnny Depp had originally signed up to play.
"The plan was to be shooting Quixote right now," Gilliam told Variety, adding he was looking for new financing.
Despite his latest set-back, the director said he still did not believe in what was dubbed the "curse of Quixote".
"Don Quixote gives me something to look forward to, always. Maybe the most frightening thing is to actually make the film."