Daybreak launch show lands audience of over 1m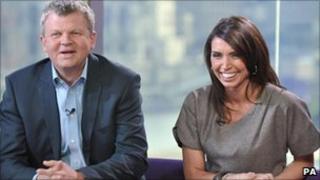 More than a million people tuned in to see the launch of ITV's new breakfast show, Daybreak, on Monday - an improvement over its predecessor, GMTV.
Overnight figures suggest the programme, hosted by former One Show presenters Adrian Chiles and Christine Bleakley, averaged one million viewers.
ITV said the show, which featured an interview with former prime minister Tony Blair, peaked at 1.5m viewers.
But the BBC's Breakfast show had a higher average audience of 1.4m.
The show also had a higher peak audience, of 1.9m.
In a statement, ITV said it was was "very pleased" with the figures.
Last week, fewer than one million viewers tuned for the final edition of GMTV, which ended after 17 years on the air.
Its replacement has had a mixed reaction from television critics, with the Guardian website praising the performance of Chiles and Bleakley.
But the Independent said at one point it looked "as if the former One Show duo were clinging to each other for dear life".
And The Telegraph said Daybreak "could have been any old edition of any other breakfast show".