Alesha Dixon gets tough on new CD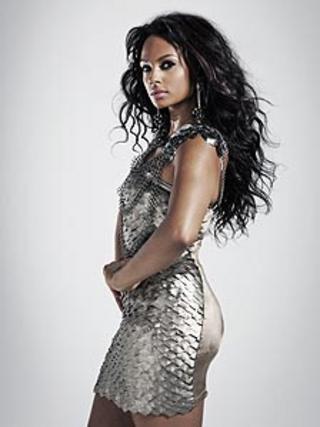 "Pick up your stick," shouts Alesha Dixon on her new single, Drummer Boy. "Hit me with your best shot."
The 31-year-old singer has certainly fielded her fair share of blows in her lifetime - from the unexpected collapse of her first record label to the messy end to her marriage to So Solid Crew rapper Harvey.
But she has repeatedly bounced back, winning over middle England on Strictly Come Dancing, and relaunching her singing career with the pop-mambo crossover The Boy Does Nothing.
For her new album, The Entertainer, Dixon has gone back to the edgy R&B beats and demented rapping that made her stand out as a member of girl group Mis-teeq at the dawn of the millennium.
"I always was the nutter at the end of the line-up," she grins, before breaking into her trademark guffaw, a hissing, teeth-rattling noise that is half dolphin, half football rattle. (Henceforth referred to as "The Laugh").
This weekend will see Dixon back on TV screens for the eighth series of Strictly, and back in the charts, with Drummer Boy expected to hit the top 10.
As the next phase of her career starts, the star sat down with the BBC News website to discuss her lyrics, her plans for world domination, and the return of "bonkers Alesha".
Drummer Boy is a much harder sound for you. Is that the direction you're taking on the new album?
Drummer Boy is a tough single, and the character I play within that song is the female boss. I wanted a song that you couldn't ignore, and I think Drummer Boy does that perfectly.
Do you really prefer your men "strong, simple and dumb" like the lyrics say?
I'm just joking! [The Laugh]
Well, you performed at the Mr World competition earlier this year, so I thought maybe you'd found your type...
Oh, don't say that! It's like role reversal. Women have always been looked at as the secondary gender. Men get paid more and they get an easier time of it, so I liked the idea of doing a song that completely turned it around and put women in control. It's tongue-in-cheek, a bit of fun.
It seems like a lot of female-led R&B confuses the concept of empowering women with putting men down. Songs like No Scrubs or Bills, Bills, Bills almost seem anti-male.
Do you know what? If I wanted to be that way lyrically, I could have gone there. I've got a lot of ammunition and juice up my sleeve. If I wanted to be male bashing, I could have done it but I chose not to go down that road.
We should all accept our roles in life, and realise that, you know, sometimes men are physically stronger, and that's okay. But we are equal.
Men might be physically stronger, but I wouldn't rate my chances against you in an arm wrestle.
Oh my God! I used to love to arm wrestle. I'm very competitive and and when I was at school, I used to challenge everyone to arm wrestles. That was my thing. I have a freakishly strong right arm! [The Laugh].
How did you develop that?
I don't know. Defending myself against my brothers, probably.
You've got five brothers, is that right?
Yes. Two older, three younger and one sister.
Do they get very protective?
You know what it's like with brothers. They pick on you and bully you when you're growing up - but the minute anybody attempts to be rude to you, they've got your back straight away.
What was the worst thing they did to you?
They tied me to a tree and left me there! My mum had to come and set me free in the end. To them it was fun. That was my brothers' way of showing their love.
What was your childhood like?
I grew up in a beautiful little town, Welwyn Garden City. It's green, it's peaceful, it's lovely. Not too far from London. But when I was in Mis-Teeq, a lot of people assumed I was from South London, because of the MC-ing and the vibe of the group.
You ditched the MC-ing on The Alesha Show. What made you decide to bring it back?
I did make a conscious decision not to MC on The Alesha Show because I was known as "the shouty one". So The Alesha Show was a great transition from winning Strictly to getting back into the whole music thing - but now I feel like I'm back in the zone.
The album shows lots of different layers. There's character songs like Drummer Boy, Baddest Chick, The Entertainer that are really about playing a role. And then there are songs like Cool With Me and Love In A Box that deal with real issues.
When you're recording those edgy tracks do you worry about alienating Brucie and the rest of your older fans?
Do you know what's quite interesting about that? I'm not convinced that the people who bought my last album were necessarily people who were fans of me on Strictly.
I mean, its hard to call. The demographic of Strictly Come Dancing is so wide you can't judge it. But when I did my tour, a lot of the audience were young girls, who could potentially be watching X Factor instead.
My favourite Mis-teeq rap was in Can't Get It Back, when you scolded an errant lover by calling him a "silly rabbit". Where did that come from?
I don't know!! [The Laugh]. One of the things I was very good at was saying things that made no sense. "Silly rabbit" just came out of my mouth. I don't know what it meant!
Do your skills at freestyling come in handy when you have to think up cheeky quips on Strictly?
You do have to think on your feet - but what I try to do is give a natural reaction.
Some of the other judges seem like they might have scripted their comments in advance.
I don't think they prepare. Everybody gets into their own little zone, and they each have their own style of doing things.
You only announced you were coming back to the show very recently. Was it a hard decision?
It wasn't - but I needed to make sure that there was a way it could work with the music.
Your dance partner Matthew Cutler has left the series this year. What did you think of his decision to quit?
Matthew's quit - but he's still going to be choreographing this year. He's not really the kind of person who craves fame. He's very easy-going. So if he made that decision, I know he's happy.
If he's easy-going, doesn't that make the decision to leave over format changes the more surprising?
The thing with Matthew is that he's very busy teaching. He travels around the world teaching, so Strictly isn't his full-time job. So, if anything, this has worked perfectly for him because he's a very busy man but he still gets to be part of the show.
Finally, your ambitions for the last record were to go platinum and stage a solo tour - both of which you achieved. What do you want to do this time?
The goal this time round is to have a world tour and to sell a lot more records worldwide! I'd like to take this record to Europe and Asia and Australia again, but add America to that list. I've definitely got America in my vision. Nothing's stopping me!
Drummer Boy is available now, and Alesha's album The Entertainer is due out on 22nd November. She will also open the Help For Heroes concert on 12 September.