Vic Reeves to star in Morecambe and Wise film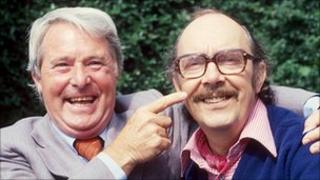 Comedian Vic Reeves has signed up to star alongside Victoria Wood in a feature-length film about the comic duo Eric Morecambe and Ernie Wise.
The BBC Two film, which is in production at the moment, will focus on the pair's childhood and struggle to establish themselves in showbusiness.
"The drama also focuses on the strength of the bond between the two men," said Wood, who conceived the film.
She plays Morecambe's mother, Sadie, with Reeves playing his father, George.
Both families of the late comedians have lent their support to the drama.
'Sanity prevailed'
"It's such a genuine thrill to see a film about the early days of Morecambe and Wise being helmed by someone of the calibre of Victoria Wood," said Gary Morecambe, Eric's son.
"It is the greatest possible tribute to the double act."
The story starts in the late 1930s, when the stars were growing up, and runs up until 1954 - the year their first TV series, Running Wild, started.
Because of the timespan, three actors were needed for each part.
"The casting has been a marathon," said Wood.
"We were looking for a specific Eric or Ernie quality at each age and, once we found it, the rest was up to the make-up department to match their hair and eye colour."
Originally, the actress admitted, she had considered using puppets to play the comedians in their younger days, but decided against it because "sanity prevailed".
Morecambe and Wise's partnership lasted until 1984, when Morecambe passed away.
Their most famous sketches included their slapstick recreation of Singin' In The Rain, where Morecambe was drenched by sudden deluges from drain pipes.
Another favourite, in which the duo performed a perfectly-timed dance routine using various kitchen utensils and food items, was recently recreated by Johnny Vegas for an advertisement.